Login
Log in if you have an account
Dont have an account? Register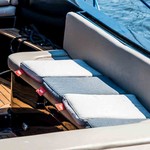 A day on the water with Stoov®.
Floating freely.
With a water repellent Stoov® on board you and your passengers will never feel cold again.
Is it 100% waterproof? No. But very suitable for a day on the boat? Yes. The One heating cushion is a steady seat on wild waters, the Ploov is the ultimate relaxation cushion and the Big Hug spreads warmth like the sun. For five hours. That's a lo-o-ong journey.