Login
Log in if you have an account
Dont have an account? Register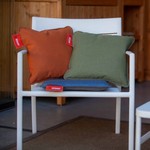 Go outside with Sunbrella® heating cushions
The new covers from our Premium heating cushions are made of 50% recycled materials from Sunbrella. The Sunbrella covers are made with functionality and design in mind and have a long sustainable life, thanks to the resistant fabrics.

The sustainable design of Sunbrella®
The new covers of our Premium heated cushions are made by Sunbrella. Sunbrella is a company that believes in fabrics that can be both beautiful and functional and have a long sustainable life. The cushion covers are made with an eye for detail and with special materials that are resistant to fading from sunlight. The cushion covers are easy to keep clean and durable, so you can enjoy your Ploov heating pad for a long time, both indoors and outdoors.
50% recycled materials
The Sunbrella fabrics are made of 100% acrylic, 50% of which is recycled. Thanks to the sustainable design and the use of recycled fabrics, Sunbrella fits perfectly with Stoov. Because of our infrared heating technology, we heat you as a person and not an entire room. This allows the thermostat to go down and you can save energy and money. With our Premium heating pillows you get a sustainable heating cushion, which you can enjoy for a long time and also save energy.
Heated cushions for outside and inside
Thanks to the resistant materials in combination with our wireless design, our premium heating cushions are ideal for outdoor use. Lovely to sit in the garden, take on a boat or while camping. Our heating pillows can operate up to 8 hours on the lowest setting without power and up to 2.5 hours on the highest setting. Do you want to sit outside longer? Thanks to our USB charger, you can also charge your heating pad with a power bank or even in the car. Our premium cushion covers are available with Ploov heating cushions and One heated seat cushions. The heated seat cushions are ideal for sitting comfortably at your garden table, while you enjoy the cosiness of your friends, family or partner.
Would you rather stay indoors? No problem! Lie comfortably on the sofa with your heating pillow, at the kitchen table with your heated seat cushion or hang a heating pad over your chair.