Login
Log in if you have an account
Dont have an account? Register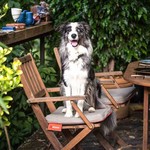 Also for pets
Watch out, they steal your Stoov® ...
Stoov® not only warms up people, but also pets!
A unique heated seat cushion where both functionality and design come first, with an eye for detail.
For everyone who loves style, warmth and comfort .... even your pets!
So keep an eye on your favorite pillow, because before you know it someone else has stolen it ...
New products coming soon
Sign up for our newsletter and get the latest updates, news and product offers via email